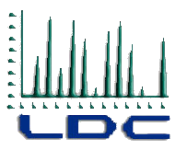 Environmental Data Management System
EDMSi is GIS-enabled environmental data management system for secure storage of field and analytical information on the cloud. EDMSi was designed to easily store and retrieve data as well as documents, images and a variety of other file types. It was also designed to grow with your organization; in the number of projects, the size of the projects, and the number of users. It allows subscribers to upload the most popular electronic data deliverable (EDD) formats into a multi-layer secure environment and our LDC Custom Query Engine™ provides users a fast, user-friendly way to retrieve data in a variety of display formats including interactive grids, maps and graphs. Users may export query results as delimited text or Excel spreadsheets for offline post processing while reports and graphs may be exported in MS Word, Excel, PDF and other formats. EDMSi also provides safe, reliable archival storage of project documents including chain of custody forms, laboratory reports, validation reports, EDD's, images, and other files.
EDMSi Features
Data Retrieval & Analysis



• EDMSi features an intuitive, customizable, user created query system to quickly and efficiently retrieve stored data from the database system.


• EDMSi presents user data in multiple graphical formats including maps, graphs, and reports.


• Highly organized, intuitive, and well-structured GUI.


• Reports allow users to display desired data in a report viewer that can be directly printed or saved in a variety of formats. LDC can also work with clients to design and implement reports for specific client needs.


• Users may export query results as delimited text or Excel spreadsheets for offline post processing.


• Flag results using a comparison limit query to compare the results of a custom query to a user-defined threshold.




















Data Import & Storage



• Well-structured and efficient data storage system that enhances the ability to find key results and patterns in minimal time.


• Easy-to-use data management system to view and maintain currently stored data as well as related reference data and application settings.


• Support for many of the most popular electronic file formats and includes effective and intuitive tools for importing both lab and field data. LDC can also provide assistance for importing EDDs.


• Store project EDD's, documents and other related files securely and reliably using EDMSi's project document storage system.


• EDMSi features support for a client-specific organization tree which allows users to set up multiple projects in a pre-defined, dynamic organization structure within the application.


• GIS-enabled system allows for the storage and retrieval of sampling locations with any accompanying geospatial related metadata.



Reliable & Secure



• EDMSi features a granular user account permission system that allows administrators to set restrictions on a user or group of userss within the client organization structure or at a per-project level.


• Cloud-hosted to provide maximum reliablility and uptime. No hardware or software to maintain.


• SSL enabled ensures transmission of data will remain encrypted.


• Automated daily backups of all data.









Questions?
Request Demo?
Request Quote?